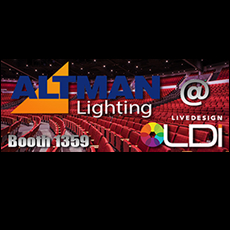 Altman lighting at LDI 2016
Altman Lighting set to showcase its award-winning lighting solutions at LDI 2016
New York-based manufacturer highlights the annual tradeshow with theatrical, architectural and video lighting solutions in Booth 1359
 Click here for the Altman Lighting LDI Press Kit with images
Yonkers, New York (10/14/2016) – When the 2016 LDI Conference and Tradeshow opens its doors on October 21, 2016, Altman Lighting will proudly be showcasing its award-winning line of lighting innovations inside the Las Vegas Convention Center. As one of the leading manufacturers of theatrical, architectural, and video lighting solutions today, Altman Lighting will feature the PHX LED ellipsoidal family, the Gallery series, Pegasus, and the Chalice LED series of luminaires in Booth 1359.
"We are very excited about exhibiting at LDI 2016 as this is a very exciting time for Altman Lighting," began Julie Smith, General Manager. "Understanding the vision at Altman has always been to develop the most innovative and cost-effective lighting solutions, we are eager to have the opportunity to demonstrate our passion and latest product solutions to the lighting designers, engineers, specifiers and dealers in attendance at the show."
New and innovative options are what make the award-winning PHX LED ellipsoidals ideal for theatres, live events, television studios, or wherever superior and energy-efficient lighting performance is desired. With zoom ranges from 15-35 or 30-55 degrees, a 360-degree rotating barrel, and its die cast aluminum fabrication, the PHX LED is available in a diverse line of LED choices including RGBA, RGBW, 3000K, 5600K, and tunable white versions as well.
The Gallery Series is a family of luminaires designed to serve as the most versatile solution available for museum, art gallery, hotel, restaurant and retail lighting. This scalable luminaire family offers 4000 lumens across a variety of color temperatures, and can be used to build a variety of solutions through profile, beam wash and flood options ensuring your lighting environment will have the lighting tools to adapt and change.
"Our new Gallery Series is designed based solely on customer requests for what they truly needed in an architectural line," added Nicolas Champion, Vice President of Sales. "Working together as valued partners from start-to-finish, we have crafted one of the most versatile architectural lighting solutions and we are proud to be introducing the Gallery family to everyone at LDI."
Available as a 6 or 8-inch white output LED Fresnels, the Pegasus is both a Mains Dimmable and DMX controlled luminaire that replicates the soft light output that is expected from a Theatrical or Studio Fresnel. At under 150W, Pegasus meets the output of its 750 watt incandescent counterparts and is also available in four different color temperatures with a 10-70 degree spot-to-flood beam spread.
For your house lighting needs, the Chalice LED Series is a line of low-heat and low-power fixtures that offer high-output and high-color rendering white light with RGBA color-mixing models as well. With on-board power supplies, seven interchangeable lenses and at over 10,000 lumens, the Chalice LED accepts both DMX-512A and RDM control directly at the fixture and is available in three hanging configurations Pendant, Wall, or Yoke mount.
To see all of the new and innovative Altman Lighting luminaires at LDI 2016, visit Booth 1359 at the Las Vegas Convention Center on October 21-23, 2016. For complete information on the LDI Conference and Tradeshow, visit www.ldishow.com.
Built on quality and excellence, Altman Lighting is one of the leading innovators of theatrical, architectural, film and video lighting today. Founded over 60 years ago by Charles Altman on the philosophy of providing top-quality products at an affordable price, the company and family have continued on with that vision through state-of-the-art product innovations and economical lighting solutions. Our experienced design and engineering team has created a family of luminaires that both enhance and illuminate the lighting environment with fixtures that range from incandescent to LED technology. To find out more about the complete Altman Lighting product line visit www.altmanlighting.com, follow us on Twitter or find us on Facebook.
# # #
Media Contact:
Bryan Matthews
Park Bench Marketing
817-845-9388
bryan@parkbenchmarket.com
Corporate Contact:
Julie Smith
Altman Lighting
914-476-7987
jsmith@altmanlighting.com