Thank you for helping spread the word of our #WhyILight 2020 Student Lighting Showcase and Competition. These are some helpful copy suggestions, if you'd like to tailor or tweak for your social profiles. Please use hashtag #WhyILight and tag @altman_lighting.com on Instagram, and @AltmanLighting on Facebook when using these posts. Reminder: Competition runs 10/6/20 – READ MORE…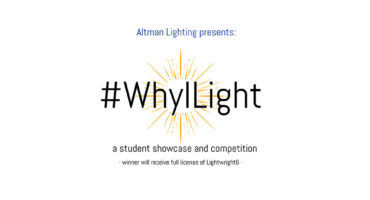 From October 6th to November 13th Altman is running a promotional giveaway of a full personal license of Lightwright6!
We want to showcase work by students and young lighting designers to help them network and with other young designers, as well as industry professionals.