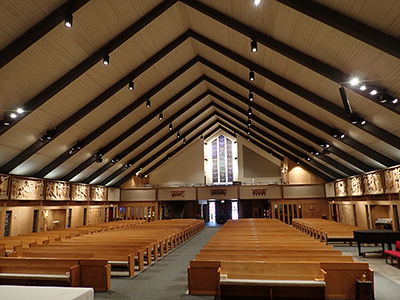 A Retrofit LED Solution at St. Rose of Lima Church
Houston-based manufacturers rep LESCO Lighting Technology installs a mains-dimmable and DMX controllable design using Chalice LED downlights and Pegasus LED Fresnels
In 1946, more than 100 founding parishioners came together to build a community where families could worship as one, establishing the St. Rose of Lima Catholic Community. Built around a host of ministries that include a school, an early childhood center, and various summer programs, the sanctuary within the community is relied upon as part of the foundation for spiritual growth. With an outdated lighting system which needed replacement, the church worked with the Houston-based manufacturers rep LESCO Lighting Technology who installed a bright and energy-efficient worship design using Chalice LED downlights and Pegasus LED Fresnels from Altman Lighting.
"This was our first time working with the congregation at St. Rose of Lima, and we were brought on to help them update their current house and stage lighting system to LED technology," said Manuel Moran, LESCO Lighting Technology. "In this phase of updating the system, we would need to still use their existing dimmer rack, so we suggested using the Mains-Dimmable technology of both the Chalice LED downlight and the Pegasus LED Fresnel."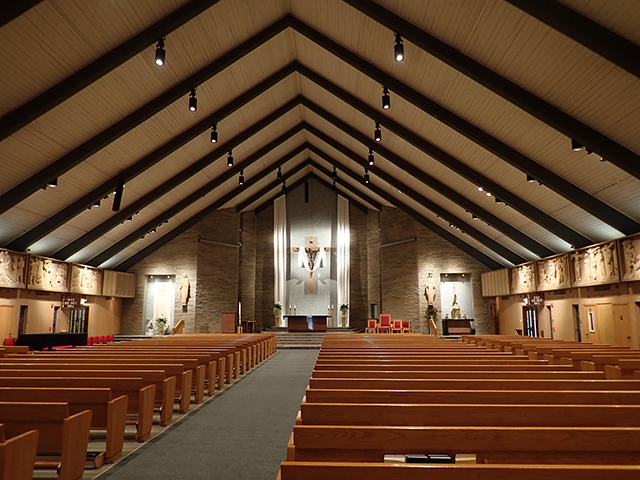 The Chalice LED Series is the most diverse range of downlights available with mounting options that include pendant, recessed, aircraft cable, wall and yoke mount; and dimming choices ranging from Mains Dimming to DMX. Also available with a wide variety of LED color or white light options, plus numerous lens or reflector choices, the Chalice LED Series is the most versatile and easy to integrate downlight solution available today.
"Their existing house lights were just 10 to 12-inch recessed cans each using a 500W halogen lamp," continued Moran. "Additionally, they also had 500W halogen PAR lights that were being used to light the alter and the cross. As these lamps were becoming more costly and difficult to find for replacements, they wanted to convert to LED lighting for both the energy and cost savings. Throughout our discussions on what they wanted, we knew the Chalice and Pegasus LED fixtures would be an ideal solution to accentuate their worship services."
Available as a 6-inch or 8-inch white output solution, the Pegasus LED Fresnel is both a Mains Dimmable and DMX controlled luminaire that replicates the soft light output that is expected from a Theatrical or Studio Fresnel. At under 150W, Pegasus meets the output of its 750-watt incandescent counterparts and is also available in four different color temperatures with a 10-70 degree spot-to-flood beam spread.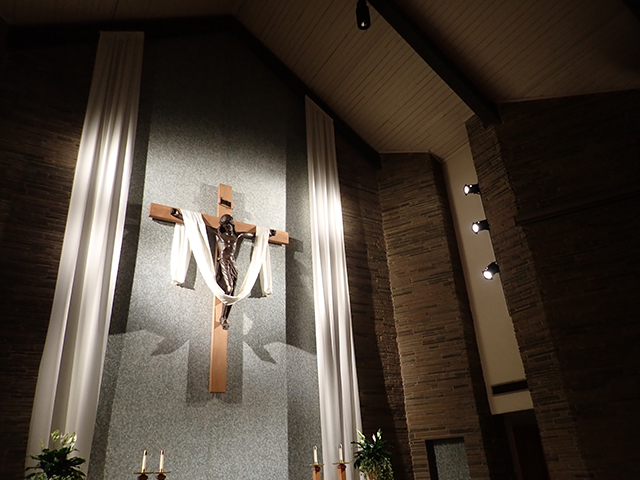 "In the end, we installed 24 Pegasus LED fixtures that are focused on the stations of the cross, and are mounted along wood beams in the sanctuary," added Moran. "We then installed 48 Chalice LED downlights for the house lighting in the sanctuary. Since the Chalice and Pegasus are both Mains-Dimmable, we didn't have to add any additional wiring and we could still use their existing preset lighting station at the back of the house for prerecorded looks. It was a very simple replacement on the labor side and the electrician was actually able to finish the wiring three days ahead of schedule."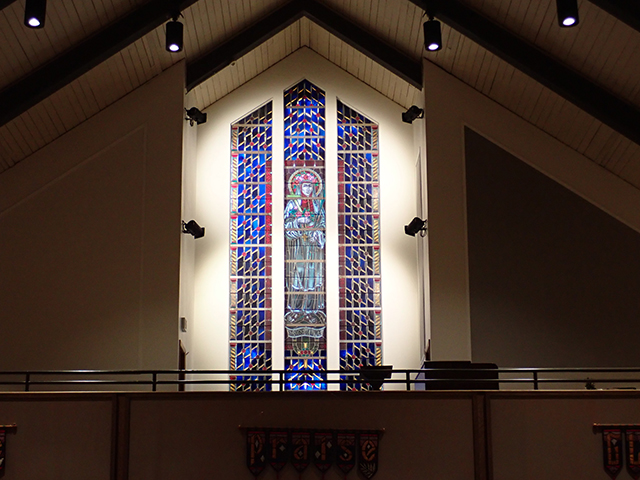 Now complete, the new lighting design for St. Rose of Lima Catholic Church is exceeding expectations. Not only providing the energy-savings and brightness desired from an LED lighting system, it is also showcasing the benefits of an ideal retrofit lighting technology.
"The new system turned out perfect and they were very surprised at the brightness of the LED lighting design," concluded Moran. "Overall the biggest advantage to this type of solution is the ability to work in either a Mains Dimmable or DMX application in the same luminaire. If you have a church that wants to update their lighting fixtures to LED, but still needs to work with their traditional dimming system, you have a one-for-one replacement solution, with no additional wiring, and the lights work great."