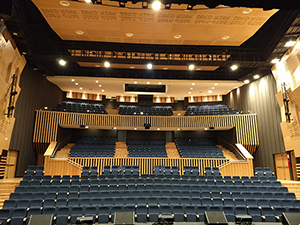 Finding the Light at the Auditorio de la Plaza Purísima
Lighting integration specialists Genesist work with Interlight Mexico to install a LED lighting design inside the new performance venue using Chalice, PHX and Spectra Cyc luminaires
Located in Purísima del Rincón, Guanajuato, Mexico, the Auditorio de la plaza Purísima is a new performing arts center built for the benefit of the more than 200,000 citizens in the Rincón municipalities. Created as part of the Plaza Purísima complex, the new facility was backed by the Public Works Secretariat and envisioned to be a shining example of modern architecture. With an expectation to implement the latest in lighting technology into the design, Interlight Mexico worked with the design team at Genesist and installed Chalice LED downlights, PHX LED ellipsoidals, and Spectra Cyc LED cyclorama luminaires from Altman Lighting.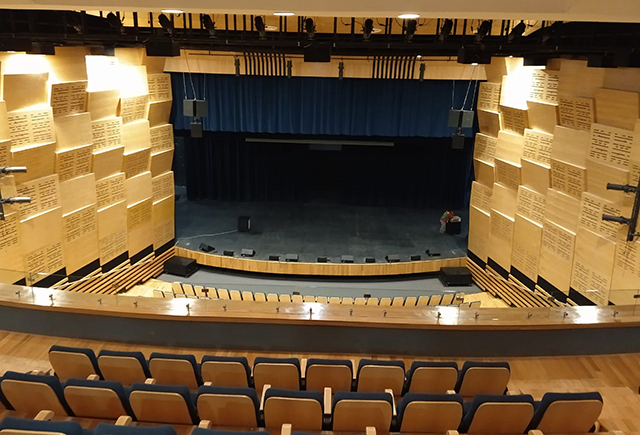 "We've had the opportunity to work with the client and specifier on the project on a couple of past occasions, so they know our company well and trust our experienced design team," began Jose Zedillo, General Director, Genesist. "Through this relationship, we really have the freedom to explore the best solutions possible for each lighting challenge, and it is always our goal to utilize the most innovative technology in our designs."
As Genesist and Interlight got to work, the theatrical lighting design would first be influenced by the desire to use an energy-efficient solution for the unique venue. Additionally, the team had to be cognizant of selecting fixtures that could keep pace in an active production environment.
"Due to the layout of the theatre space and energy-savings specifications, we needed to identify LED lighting solutions that were both powerful and provided a wide variety of beam angles for the fixtures chosen," explained Zedillo. "We also needed performance luminaires that were consistent and long-lasting, from a trusted manufacturer who could provide full support during the bidding process. As we are very familiar with the dependability of Altman Lighting, we chose Chalice, PHX, and Spectra Cyc luminaires because they meet all our needs."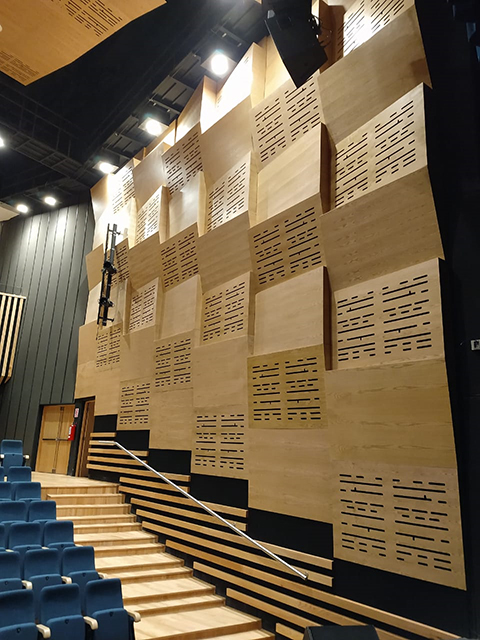 With mounting options that include pendant, recessed, aircraft cable, wall and yoke mount, Chalice LED downlights are also available with dimming choices ranging from Mains Dimming to DMX, and a variety of LED color or white light options. State-of-the-art theatrical luminaires designed with a number of innovative features, PHX LED ellipsoidals are available in LED array choices that include RGBA, RGBW, 3000K, 5600K, and tunable white 3000K/5600K. The popular Spectra Cyc cyclorama family utilizes a diverse line of LED choices including RGBA, RGBW, 3000K, 5600K, and tunable white versions, to blend beautiful, rich colors via their patented LED blending lens.
Zedillo continued, "The stage of the performance venue measures 10 meters high, by 14 meters wide, and 10 meters deep, so the Chalice fixtures were a particularly great choice for the project. We are using them as work lights hanging from pipes in the grid, and with their wide variety of lenses to choose from, they are doing an outstanding job."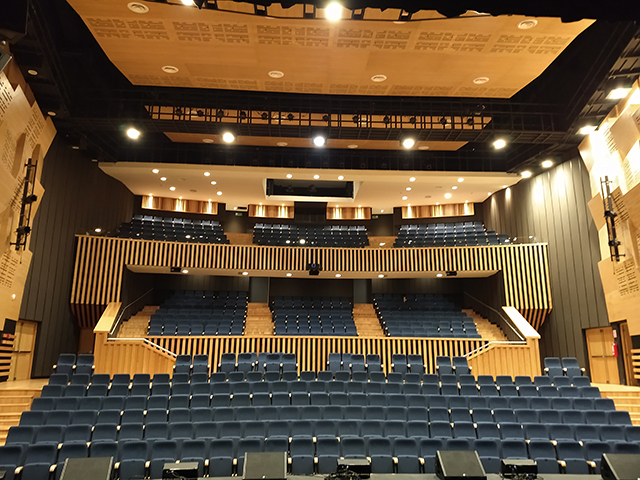 Now complete, the new 500-seat Auditorio de la plaza Purísima is a cultural gathering place for those seeking to be both entertained and educated. As a public facility constructed to host the regions many artistic and academic events, the design inside stands ready to illuminate the creativity below.
"On this type of government project, they are looking for state-of-the-art technology solutions, that will last for several years, but also be affordable," concluded Zedillo. "The fixtures we choose have to be powerful and trustworthy, and with the Altman luminaires, we got it all."