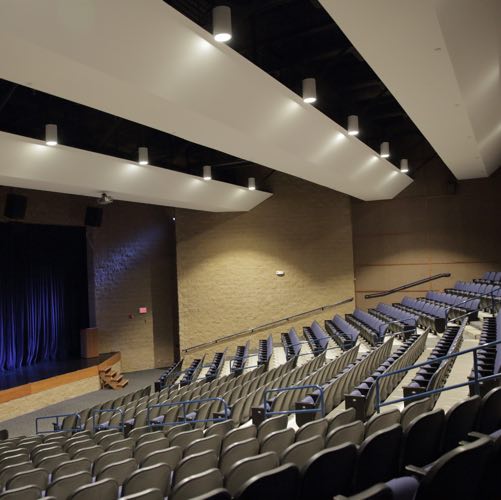 Schaumburg Prairie Center for the Arts
Our mains dimmable Altman Chalice 150 was chosen for a house lighting retrofit at the Schaumburg Prairie Center for the Arts in Schaumburg, IL.
The Prairie Center for the Arts houses the Maggie Atcher Theatre, a 442 seat theatre that features a full season of entertainment as well as numerous rental events and in-house productions.
"We replaced our old, 250 watt quartz-halogen house light fixtures with Altman Chalice 150 Mains Dimmable LED fixtures. Replacing lamps in the old fixtures was never easy, and at 30+ years old, they were becoming difficult to maintain. The Chalice fixtures were perfectly suited to a 1:1 fixture replacement. Field-installable reflectors allowed us to customize the coverage of each fixture to cover the seating area with a bright, even, 3200k wash. The mains dimming version of the fixture allows us to use our original 6kW house light dimmer to control the Chalice fixtures, and the dimming is smooth and even throughout the dimmer curve – even at the bottom of the curve. The output of the Chalice fixtures is enough that we typically run them at 50% – 60%. Working through our rep at Grand Stage Lighting, Altman provided a custom mounting solution that allowed us to re-use our old conduit pendulums, saving time and money." – Jack Netter, Assistant Director for the Department of Cultural Services for the Village of Schaumburg.
Netter continues, "The result was a quick, easy replacement – 14 fixtures replaced by two people in just over one day. The result? More light output with about 30% of the power consumption, reduced heat loading on the HVAC system and no maintenance. It's a win-win."
Chalice 150 is the ideal solution for any space seeking to upgrade their high wattage incandescent fixtures to a long life, low maintenance LED solution. The mains dimmable Chalice 150 offers full, smooth 0-100% dimming that is compatible with your existing dimmers making retrofits quick, easy and affordable. No additional cabling or infrastructure is required to upgrade to Chalice 150 making a direct one to one upgrade simple and efficient. Chalice 150 is available in pendent, yoke and wall mounting options and features field changeable reflectors. Chalice 150 offers over 10,000 lumens output making it one of the most effective house lighting solutions available.
To arrange a demonstration please email us at demos@altmanlighting.com.