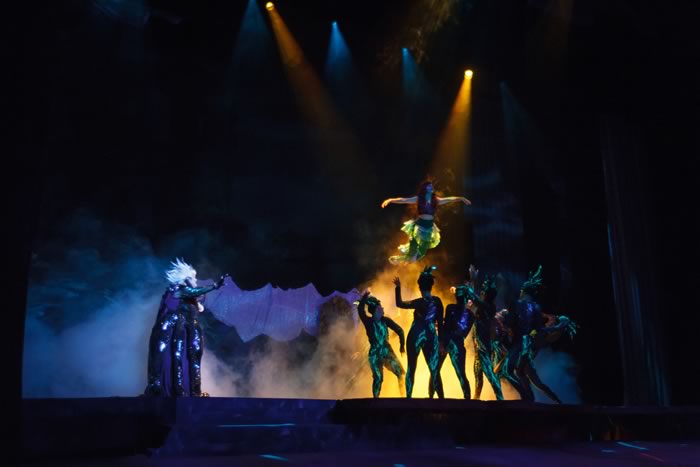 Liberty University
Location: Liberty University – Lynchburg, VA
Director: Linda Nell Cooper
Lighting Designer: Barry Gawinski
Scenic Designer: Mark Howieson
Costume Designer: Rachel Webb
Photo credit: Ty Hester
Liberty University's Alluvion Stage Company, a not-for-profit professional theater company on Liberty's Lynchburg, VA campus, specializes in "providing a superior theatre experience in a wholesome family environment." To meet this goal the designers and technical staff work closely with industry professionals to find the right mix of products to create stunning effects while keeping ahead of the technology curve and staying on budget.
Opening Alluvion Stage Company's 2014-2015 season was a production of the Disney Broadway hit musical The Little Mermaid which provided new challenges in the way of UV effects. It fell to Lighting Designer, Barry Gawinski, to find the right fixtures for the job.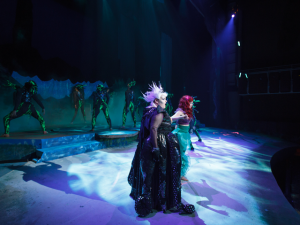 "While working on Liberty University's Alluvion Stage Company's production of The Little Mermaid, we were looking for a blacklight fixture for Ursula's Lair that could provide fairly significant coverage utilizing minimal fixtures, while still having a bright output—a combination of requirements which is difficult to achieve with blacklight. The script describes the location as "a watery, hell-soaked lair" so we were looking for a way to visually represent a sense of jeopardy (Ursula is pure evil, after all), yet was child-friendly. The director, Linda Nell Cooper, and I had come up with a visual image of a blacklit fish tank because it was both dark, and contained magical, hyper-realized colors. We did not intend Ursula's scenes to look traditionally blacklit, but wanted to utilize the blacklights to harmonize with Costume Designer Rachel Webb's fabric choices and give them a sense of electricity."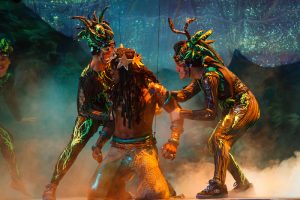 The project's requirements called for a high powered, low wattage, controllable UV source – a combination of traits not typically found in a conventional production grade MH blacklight. Of particular note was the requirement for a "true UV" light source; a fixture with a peak UV-A spectrum of 365nm. Fixtures with a higher spectrum, providing visible light, would not be acceptable.
"Altman's Tom Casazza sent us a 100 watt Spectra Cyc UV fixture to test. We knew immediately that this was the light that we were looking for. It was bright enough to cut through the stage lighting to enhance the costumes without us having to reduce the overall stage lighting levels below what we wanted to see for this family musical. Scott Church of 4Wall and I put together a rental package that fit both our equipment needs and our budget. We really felt the final stage images matched our visual research and achieved the emotional impact we were intending. This could not have been accomplished without Altman's 100 watt Spectra Cyc UV fixtures."