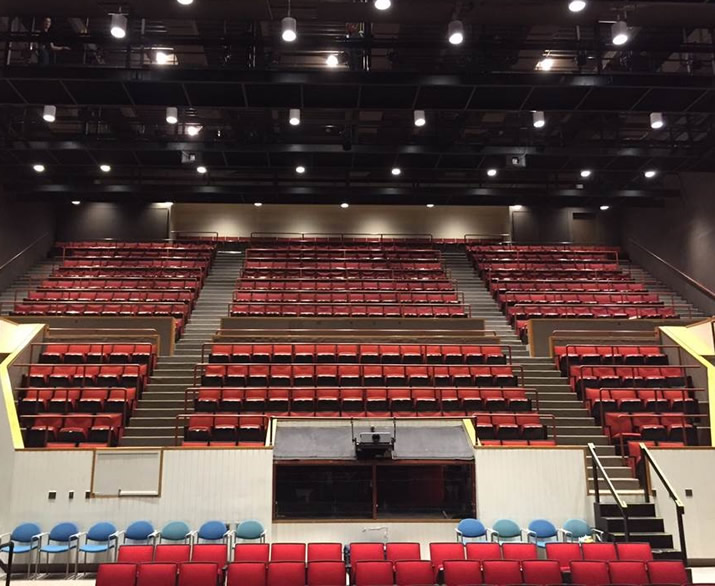 Redfern Arts Center
The Redfern Arts Center at New Hampshire's Keene State College houses three distinct performance spaces. Built in 1981, and named for Dr. Leo F. Redfern, Keene State College President from 1969 to 1979, The largest of these is the 572 seat Main Theatre, a proscenium style house with a stage allowing for both in house dramatic productions and the accommodation of most professional touring companies. The department of Theatre Arts typically produces two plays and a dance concert over the course of a season while the Music department will use the space for its larger performing groups, such as the Concert Band and Jazz Ensemble, and for events that require more space than the smaller Recital Hall. Additionally the Main Theatre has been used for performances by a diverse set of touring artists, including the Pilobolus Dance Theater, Cirque Alfonse, the Dallas Brass and the ETHEL string quartet with special guest Todd Rundgren.
Beginning in late 2012 the staff of the Redfern Arts Center, working with local dealer, and Keene State Alumnus, Norm St. Germain, owner of APS Lighting‐Sound‐AV, began to evaluate the need to replace the original architectural houselight fixtures. Two main reasons drove this project: The existing lights required a huge amount of power, and were quickly dying; the lamps that were used in these fixtures were no longer being made as part of the government's energy savings plan. Other considerations were the low quality of light that was being produced and the lack of spread due to no lensing options.
In January of 2013 APS arranged for a demo of Altman's Chalice LED downlight.
"I was student at KSC in 1981 when the Arts Center was opened. I spent about two years working in that space as a student so I'm very familiar with its merits and disadvantages. When the house light lamps were discontinued, they had to do something so they contacted me. I'd been working with the staff at the Redfern since I started my company in 2002. I was aware of the Altman Chalice and knew it was the perfect retrofit fixture for this project." ‐ Norm St. Germain.
Looking to meet or exceed the output of the existing fixtures was a must, so the 100W, 3000K pendant mount Chalice was requested for review. Jeremy Robarge, Technical Director for the Redfern Arts Center, in conjunction with Norm from APS, ultimately settled on 56 pendant mount Chalice and 7 recessed. Lower wattage with higher output and better coverage made this an easy decision. Total energy use from the older 1981 fixtures was 24,350 Watts. With the Altman Chalice this was reduced to 6,500 Watts. A difference of 17,850 Watts, translating into a significant cost savings with the space in use 8 to 10 hour day. And with a rated life of 50,000 Hours (to 70%) Keene State won't need to evaluate further changes for many years to come.
Furthering the savings found by the school was the added flexibility of choosing DMX controlled fixtures for this venue. Because the fixtures are programmable and no longer tied to dimmers or dimming zones the Redfern has been able to choose which fixtures to use at any given time, and have even set some fixtures to be used as designated work lights, programmed on timers to turn off when the space is no longer occupied.
Another issue remedied by the use of Altman's Chalice was uneven light levels. The previous downlights provided a fixed focus output creating hot and dark spots due to the varying throw distances and raked seating. With nine distinct lenses available for use, and the ability for simple changes in the field, the flexibility afforded by the Chalice enabled the Redfern to find the perfect fit for this venue. Per Jeremy Robarge, "We are very happy with the output of the fixtures and the ability to vary the lenses allowed us to correct some architectural shortcomings of the old fixtures."