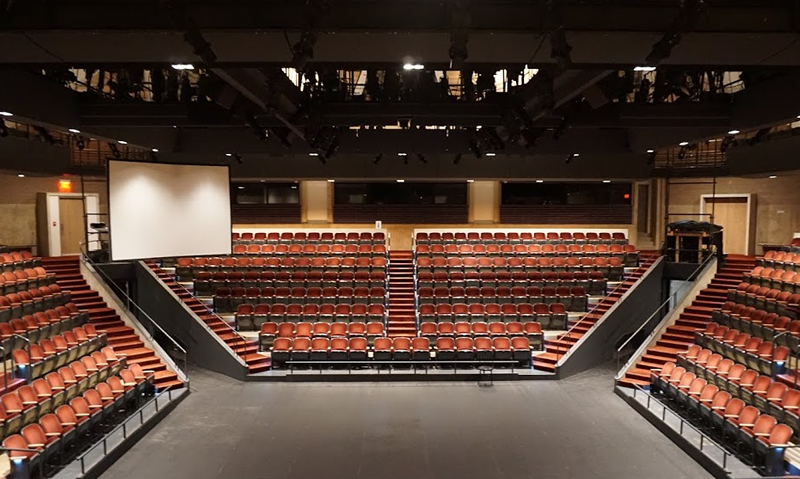 The Mead Center
Altman Lighting is very pleased to have recently provided twenty of our new 130w LED Worklights to the Arena Stage at The Mead Center for American Theater in Washington DC. The venue's master electrician, Christopher Lewton was kind enough to share his story with us:
"The lighting staff of Arena Stage at The Mead Center for American Theater was getting bored replacing burned out sockets and lamps in the 500 watt quartz halogen flood lights used as work lights in the three theater complex. The quartz flood lights were also barely adequate in illuminating the stages for rehearsals and work calls. We needed a replacement work light with long life, excellent color rendering, better light output that used less electricity."
Christopher continues, "after seeing the Altman LED Worklight on the PLASA Baltimore show floor I thought it met all our criteria. Barbizon Capitol arranged for a demo and after seeing the fixture in our spaces, General Manager Ian Pool decided to allocate funds to replace all 20 quartz halogen flood lights in the complex with the Altman WL-130 LED Worklight as part of Arena Stage's long term goal of reducing energy usage."
Lewis adds, "The stages are much brighter now and we have had no complaints about the color temperature or color rendering.
In our continual effort to lower our electric usage we have gone from using 10,000 watts of electricity on work lights to 2,600 watts and needless to say we haven't had to repair or re-lamp any work lights since the changeover. It is a refreshing change to know that every day when we turn on the work lights they will actually all work."
The fixtures were provided by Altman Lighting partner, Barbizon Capitol. Jeremiah Brophy of Barbizon Capitol offered this of this project: "When we saw the Altman WL-130, we knew that this was a light that Arena Stage needed to see right away. The lumen output combined with price and energy savings was a no brainer." Brophy continued, "When Arena Stage came to us looking to replace their conventional overhead lighting with LEDs, we immediately came to Altman and their LED-powered WL-130. At 10,000 lumens, for only 20% of the power consumption we knew this was something that we had to show the Arena."
The Altman WL-130 LED work light is a 130w single point LED source available in either a 3000K or 5000K white and a CRI of 90. The WL-130 is designed to be a cost effective, high impact replacement for any venue's existing incandescent work lights. The WL-130 has no fans ensuring no noise and most importantly very low maintenance. To arrange your demo of the Altman WL-130 LED work light please email us at demos@altmanlighting.com.