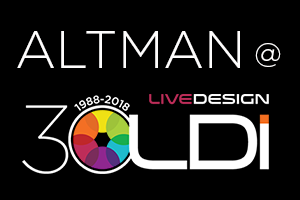 Debuting the next generation Altman Par at LDI 2018
Award-winning lighting manufacturer will unveil the new AP-150 RGBW LED Par luminaire in Booth 2227 at the Las Vegas Convention Center
Celebrating the 30th Anniversary of the LDI Conference and Tradeshow, we are excited to be preparing for the North American debut of the new AP-150 RGBW LED Par luminaire at LDI 2018. Located in Booth 2227, we will be showcasing the AP-150 next generation Altman Par, along with celebrating our own 65th Anniversary, and taking part as a sponsor of the inaugural USA Knight of Illumination Awards.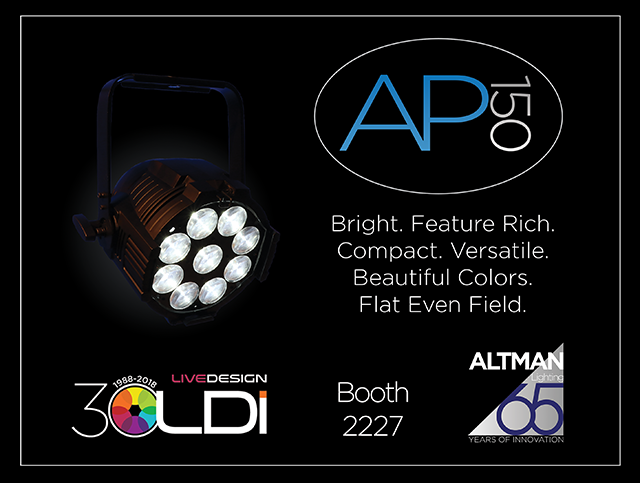 "As we make our preparations for LDI 2018, we are thrilled to not only be launching new product, but also to be celebrating a unique milestone of our own," began Julie Smith, Altman Lighting General Manager. "With a rich history spanning 65 years as a trusted lighting manufacturer, we are eager to both honor our past, and continue moving forward by continuing to offer state-of-the-art lighting innovations."
As the next generation Altman Par, the AP-150 is a compact and lightweight, 135-watt RGBW LED wash which produces deep, saturated colors and soft, delicate pastels, while maintaining a smooth, uniform beam throughout the entire motorized zoom range. Weighing only 11 pounds, the AP-150 replicates the soft output of a traditional par wash light with control states from 8 Bit, 16, Bit, RGB, and HSIC. Its factory and custom color presets allow for the quick selection of the most widely used entertainment color choices, and it also adds the ability to record color presets directly to the luminaire for custom color playback.
"As we discussed the design behind the AP-150 RGBW Par luminaire, we always had the mindset of the designer at the forefront," added Pete Borchetta, Altman Lighting Product Innovation. "With that idea leading the way, we are very excited to be launching our next generation Altman Par which provides a superior output and performance to other LED Par luminaires currently on the market."
To see all of our theatrical and architectural lighting innovations at LDI 2018, visit us in Booth 2227 at the Las Vegas Convention Center on October 19-21, 2018. For complete information on the LDI Conference and Tradeshow, visit www.ldishow.com.