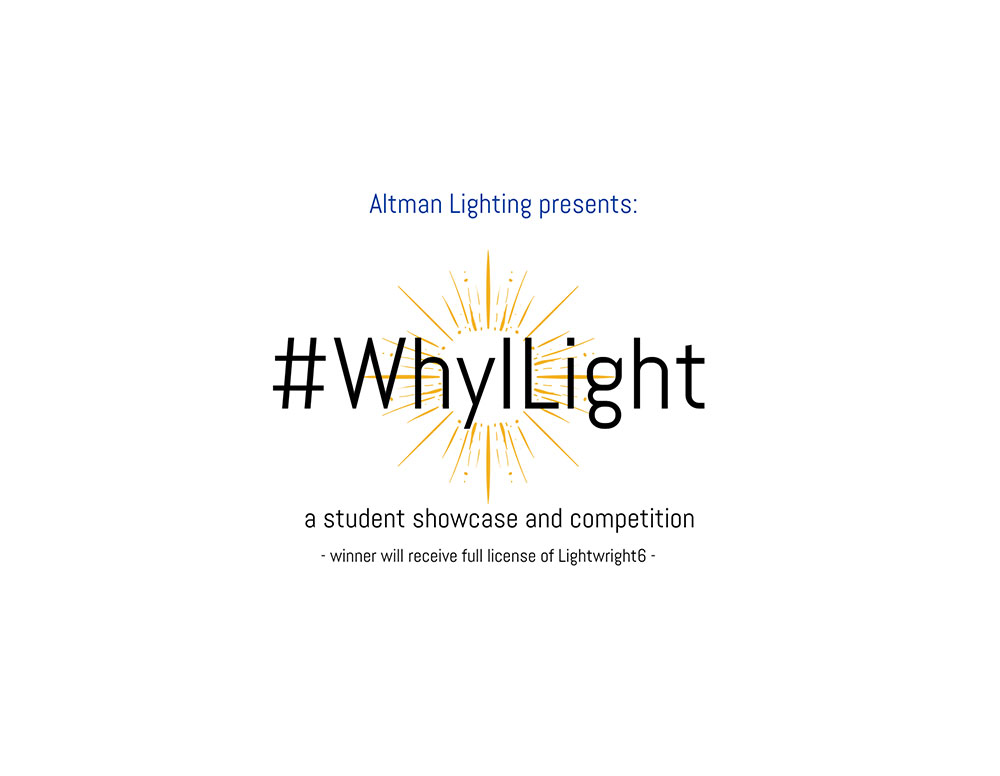 #WhyILight
#WhyILight
A student lighting design showcase and competition!
From October 6th to November 13th Altman is running a promotional giveaway of a full personal license of Lightwright6!
We want to showcase work by students and young lighting designers to help them network and with other young designers, as well as industry professionals. Entries will be highlighted on our website and social media channels, Facebook and Instagram.
#WhyILight Competition Rules:
Contest is for one personal license of Lightwright6 (or upgrade from student).
Contest will run from October 6th through 11:59 PM EST, November 13th, 2020.
Entries must be sent via DM to our Instagram profile
Winner to be announced on November 20th, 2020.
Judging criteria is as follows:

All entries should tell us why lighting is your passion. What challenges did you overcome to get this look? If this your best work, why? (50%)
Quality of image (composition and content, 50%)

All entries will be judged by a team of Altman Design, Sales, and project staff.
Entrants need to like follow the Altman Instagram page and send an Instagram DM with a maximum of two images along with a descriptive text detailing:

Why they felt this was their best work to date.
What challenges they overcame.
Name of work, location, date.

Include the #WhyILight hashtag.

Maximum 100 words.
All entrants must have rights secured to use the images. All images are sent at the risk of the entrant. Sending an image constitutes confirmation of rights usage.
No pre-vis or WYG models. Real images (with minimal post processing) please. We want to be reminded of live events again ☺.
Entrants can send hashtags and references to their social handles for inclusion if they wish.
Must be 18 to enter.
Void where prohibited.
Open to anywhere a City Theatrical dealer is present. (Lightwright distribution network)
Organizer reserves the right to revise the competition as needed without notification.
All entries outside the contest period will be disqualified.
Winner will be chosen and informed within one week of the closing of the competition. Software prize will be purchased for the winning entrant from a dealer of their choosing.
Contest is not endorsed or sponsored by Instagram or Facebook.
This is in no way sponsored or endorsed by Facebook or Instagram.